Carbon emissions are changing our planet and not for the better. Working to radically reduce, with a goal of eliminating carbon emissions should be on every business' agenda.
Jon Sears SC explains this urgency and awareness has led to numerous net-zero carbon emission pledges by companies around the world. By balancing the level of greenhouse gas emissions produced with the amount we remove from the atmosphere, the world can make real progress in fighting climate change, scientists agree.
Carbon emissions in our atmosphere have led to the destruction of natural habitats, extreme weather, and rising sea levels. Carbon emissions are one of the primary reasons why global warming exists.
The net-zero pledge is being made by both companies and nations. The United Kingdom was the first major world power to set a goal of being net-zero by 2050.
Nearly 200 countries have signed on to the Paris Agreement, which aims to lower the global temperature rise by the end of the century.
To keep the temperate increase to below 34.7 degrees Fahrenheit (1.5 degrees Celsius) , greenhouse gas emissions must get to net-zero by 2050, as outlined by the Paris Agreement.
To achieve this, the world's major companies are making the commitment, too.
Major Net-Zero Commitments
Many global companies considered to be the most carbon-intensive have made the net-zero pledge. Here are four of the most significant, representing some of the industries that are most responsible for greenhouse gas emissions.
Coca-Cola
The biggest is perhaps Coca-Cola, the world's largest provider of nonalcoholic beverages, which has made a commitment to net-zero emissions by 2040. Supply chains of beverage and food companies are responsible for about 1/3 of global emissions around the world.
Coca-Cola says it will reach its goal of zero emissions by using completely renewable electricity and using low-carbon energy sources, as well as reducing emissions from its agricultural ingredients.
Sinopec, China Petroleum and Chemical Operations
Asia's largest oil refiner is joining other oil and gas companies around the world committed to net-zero emissions. The company owned by the Chinese state says it will be carbon neutral by 2050, a decade ahead of China's overall carbon neutrality commitment.
The country is the largest emitter of carbon in the world. Sinopec says it will up its use of natural gas and move toward green hydrogen.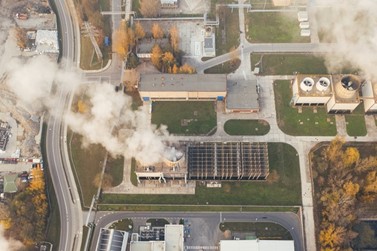 General Motors
United States-based General Motors, the 6th largest automaker in the world, says it plans to be carbon neutral by 2040 (automaker Ford has made a similar pledge).
GM says it will invest in electric vehicles to the tune of $27 billion by 2025 and power its global facilities completely with renewable energy, as well as reduce its supply chain emissions.
Nippon Steel
Japan was one of the first countries to announce its plan to be carbon neutral by 2050. Nippon Steel, the fifth largest producer of steel in the world, says it will do the same.
Among other approaches, Nippon Steel says it will increase its use of carbon storage and capture, create a steelmaking process that involves 100% direct reduction of hydrogen, and reduce emissions by a third by 2030.